Heart Shaped Whole Wheat Mini Calzones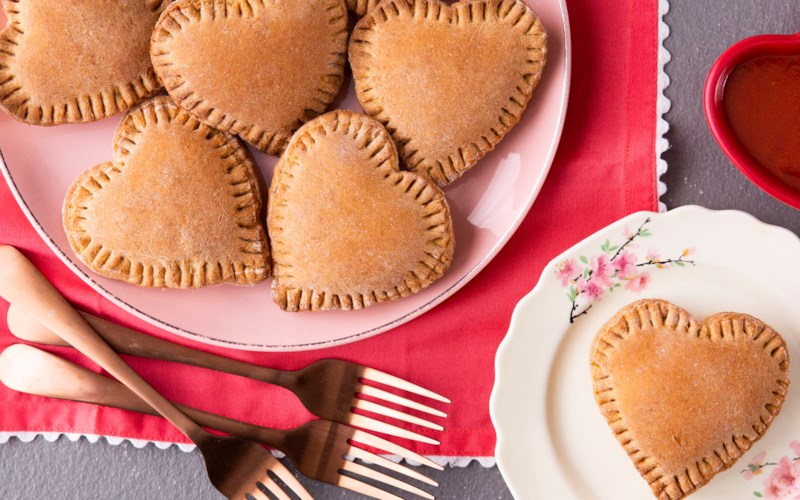 Preparation
30m
Cook Time
20m
Ready In
30m
Servings
10
Calories
272
Ingredients
Dough:
1 1/2 cups white whole wheat flour
1 1/2 cups whole wheat pastry flour
2 teaspoons baking powder
1 teaspoon salt
1 1/4 cups warm water
1/4 cup extra-virgin olive oil
2 tablespoons honey
4 teaspoons active dry yeast
cooking spray
Filling:
1 cup chopped broccoli
1 cup shredded cooked chicken breast
1 cup light cream cheese, softened
Visit URL to see more ingredients
Steps
1Combine white whole wheat flour, whole wheat pastry flour, baking powder, and salt together in the bowl of a stand mixer; make a well in the center of flour mixture.
2Mix water, olive oil, and honey together in a separate bowl; sprinkle yeast over water mixture. Let stand without stirring until yeast softens and begins to form a creamy foam, about 10 minutes.
3Pour yeast mixture into well of the flour mixture; mix on low setting using paddle beater until combined, 2 to 3 minutes. Replace paddle beater with dough hook and beat dough on low setting for 10 minutes.
4Spray the inside of a large bowl with cooking spray.
5Transfer dough to the prepared bowl; cover bowl with a towel and let rise in a warm area at least 30 minutes (1 hour for better texture).
6Divide dough into two balls; knead each by hand for about 1 minute.
7Spray 2 baking sheets with cooking spray.
8Roll each dough ball out with a rolling pin onto the prepared baking sheets about 1/4 inch thick. Cut dough into an even number of hearts using heart-shaped cookie cutters.
9Preheat oven to 400 degrees F (200 degrees C).
10Place broccoli in a microwave-safe bowl; cook on high in microwave until slightly tender, 1 to 2 minutes.
11Mix cooked broccoli, chicken, and cream cheese together in a bowl. Spoon 1 to 2 tablespoons filling into the center of a heart; top with another heart. Seal edges together by pressing around the heart with a fork. Repeat with remaining filling and hearts.
12Bake in the preheated oven until hearts are golden brown, about 20 minutes.